Mabel, alias the "hippy", is a woman whose cerebral palsy has not prevented her from being active and courageous. With a passion for technology, Ease Joypad provided her more than just access to her smartphone. She gained greater autonomy and peace of mind in her strolls.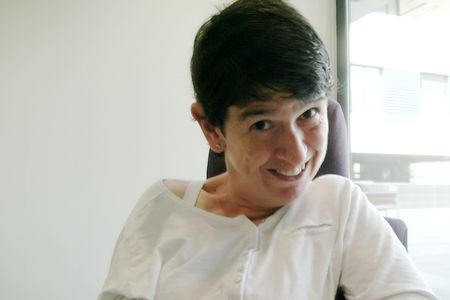 In this post, we explain the case of Mabel and how we managed to adapt her smartphone. Mabel also answers our questions.
The case of Mabel
Mabel, whose friends call her the "hippy", is a very determined and youthful spirit 51 years woman. She lives in Barcelona, in the residence of the ASPACE Foundation Catalunya. Her cerebral palsy hinders her speech and mobility, notwithstanding she is very independent and fights for the integration in society of people with functional diversity. From time to time, she gives talks and writes articles.
She loves music and drives her motor wheelchair which gives her great autonomy to move around the city by public transport. However, one of her concerns was the inability to use her smartphone to orient herself or to notify any incident.
Mabel has always used technology, from typewriters, with which she had the ability, patience, and dedication to drawing with characters, going through the first computers she accessed through a multimouse (a kind of device that allows to the user to move the mouse pointer through several switches) that she used with her foot, to a tablet with the Windows system that facilitates face-to-face communication when her speech is not enough. However, she always had difficulties to use cell phones.
Since the popularization of mobile phones in the middle of the first decade of the 21st century and especially after the appearance of smartphones, Mabel has always wished to be able to use these devices. Unfortunately, she could not due to her mobility problems. The arrival of the smartphone, with its large touch screen, did not improve this situation.
When the Digital Explorers with Ease Apps project was conceived, one of the first participants we thought of was Mabel. We knew she always was excited to try new technology and, if it worked, the impact for her was going to be very positive. We invited her and she did not hesitate for a moment to participate in the pilot test of Ease JoyPad. In addition, she already had experience using the PC with applications such as text editors, browsers, YouTube, WhatsApp Web, etc., which simplified the introduction of the smartphone, we "only" had to solve the access issue.
How it was done
Given her motor limitations, we proposed the access through two switches activated with her legs as shown in the image below. In fact, it is thanks to Mabel that Ease Joypad supports two switches. In this configuration, Each button moves the pointer in one direction – horizontal or vertical – and when it reaches the end of the screen, the cursor appears at the other end. Acceptance is made by time.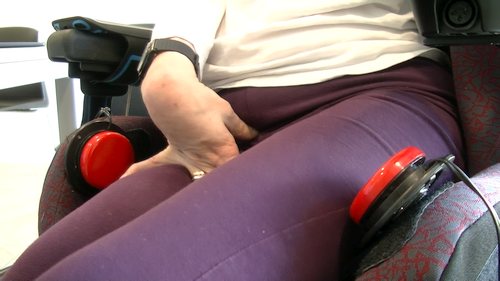 During the first session, she was able to perform basic tasks with the smartphone and we clearly saw that the application needed some improvements. Specifically, we had to add a configuration option to adjust the speed and the possibility to "wake up" the phone just by pressing one of the switches.
Mabel currently uses her smartphone daily. In fact, she just bought an Android tablet with phone functionality because the smartphone screen was a bit small for her eyes. She gained peace of mind when strolling: when she needs, she can call by phone, orient herself with Google Maps or send WhatsApp messages with the LetMe Talk app.
Mabel answers our questions
Q: How has your mobile phone usage changed?
A: Completely, since I hardly used it before.
Q: Do you use it differently?
A: Yes of course, now with the switches I can use it by myself. In the past, I had to ask for help from other people.
Q: Do you do new things with your smartphone?
A: Yes, now I can call, use the maps or the communicator.
Q: What can be improved?
A: We encountered issues with the box we use to attach the switches. Specifically, when I restart the phone the Bluetooth connection is not automatically re-established and that it is a bit of a pain in the residence.
Q: What else would you ask the mobile?
A: To control the environment. I have been told I will soon have it!
What does her family think?
Q: What do you think she has a smartphone?
A: For me is perfect because it gives her more autonomy, although she says I have her more controlled!
Q: Have her personal relationships improved?
A: Yes, now talks to more people and more often.
Q: In what situations does she use it most?
A: Especially when she goes out.
What the professionals told us
Q: Did you imagine that she could use the smartphone?
R: The truth is that it was hard to imagine for me, but she can cope with anything!
Q: Does she use it in the residence?
A: Yes, she tells us to install it in her wheelchair, especially when she is going out for a stroll.
Q: What is the main contribution of the smartphone?
A: It provided her a lot of autonomy and peace of mind.
What her peers told us
Q: Are you in a WhatsApp group?
A: Yes, we are all in the magazine group, otherwise I can hardly imagine how to arrange the meetings!
Q: Do you think there may be other colleagues who would use the smartphone?
A: Most likely many more but fortunately in our residence we already have many colleagues with a cell phone.