Welcome EVA Facial Mouse PRO!
It has been a year since the Ease Apps project was officially launched and we celebrate our first anniversary by welcoming a new application to the Ease Apps family: EVA Facial Mouse PRO.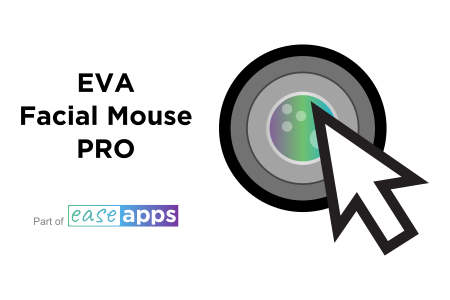 Built on the foundations of EVA
Perhaps you already know about EVA Facial Mouse. Originally launched in 2015 thanks to the support of the Vodafone Spain Foundation, EVA has been the most popular camera-based hands-free access app for Android. It earned several awards and contributed to the autonomy of many people with disabilities worldwide.
To continue adding value to the users of EVA, now we introduce EVA Facial Mouse PRO as part of the Ease Apps family. This new app adds many improvements over its predecessor: usability enhancements, bug fixes, renewed look and feel, fewer storage requirements, and updated to work with the last version of Android. Moreover, we plan to gradually add some premium features that many users demanded.
During March 2020 and thanks to volunteers from multiple countries, a beta version of EVA Facial Mouse PRO has been tested. This has been of great help to fix bugs, add small improvements and identify new features. Now we are ready to officially launch EVA Facial Mouse PRO.
Still free
If you are a user of EVA Facial Mouse we strongly suggest upgrading to EVA Facial Mouse PRO. It includes the same features as EVA for free.
Install EVA Facial Mouse PRO for free!